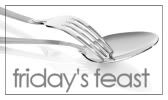 Appetizer
When someone smiles at you, do you smile back?
Yes, usually

Soup
Describe the flooring in your home. Do you have carpet, hardwood, vinyl, a mix?
Mostly carpet, but would love to have hardwood

Salad
Write a sentence with only 5 words, but all of the words have to start with the first letter of your first name.
Go, go, go, go, go.....

Main Course
Do you know anyone whose life has been touched by adoption?
No

Dessert
Name 2 blue things.
Natalie's blue eyes, the blue sky today.